We are very Happy to Announce, the best mezcal 2016 acccording to San Francisco World Spirits Competition 2016 is our mezcal  Ensamble 103.
We had an intense work looking deep in our company goals and values. We wanted to show the real essence of our brand  with a new product.
The origin of Ensamble 103, Best mezcal 2016
A Few months ago, we decided to create something great, rich in flavors and Aromas. My wife, Some Sommelier Friends and I worked in choosing the best combination.
The result is our first Ensamble , a mix of agaves procesed with the traditional process by the maestro mezcalero. We named it Ensamble 103, 1 because is the first ensamble in our brand, and 3 because of the number of agaves in it.

Then we entered our product in the San Francisco World Spirits Competition Contest, although we knew we had an amazing product, we were thrilled when we got the results : our mezcal was the best mezcal of 2016
This year a total of 1850 spirits were tasted at San Francisco wolrd spirits competition.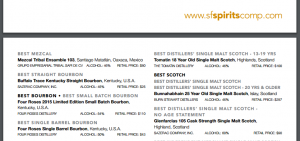 We confirm our ability to make great products, We want to thank our mezcalier Juan Hernandez our Santigo for his hard work,.
After tons of tastings , we finally decided to stick with what we tought was our best mix:
Espadin, Tobala  and madrecuishe agave.
Thanks everyone for your support, we commit ourselves to continue making amazing mezcales for you.

Andrea y Bernardo